Sometimes, I learn about something "I" did while in therapy, that I don't remember because it was really an alter. But knowing that they are all me, and I, them, does not help the weirdness feeling that washes over me when T tells me those things. It's like the Twilight Zone.
The example I'm thinking of is when T told me that Pink was signing to him, trying to spell what she wanted to say. What the...? He told me that she was curious about him and had popped into the room to check him out.
The only reason he told me any of this was because as I began talking, I looked down and on the floor was a sheet of paper about 2 1/2 feet by 3 feet. It had childish pictures on it and words obviously spelled wrong (some of the letters were backwards). I stopped talking because just a second ago, it wasn't there. T explained that Pink wanted to draw so he got the paper and markers and let her draw.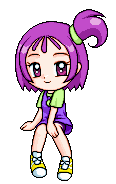 T told me she was happy and innocent. She also did very well at sign spelling. As if I weren't shocked enough already, I asked how he knew what she was spelling, as I was not aware he could read sign. He told me that he knew she signed, so he learned the alphabet so they could communicate. I was numb with shock. This was the first time I'd heard anything of signing. Somewhere I know Pink is a part of me, but it doesn't feel that way. That day (and others) felt like I was intruding into a place where I had no right to go, like peeking thru a keyhole. And I had one more shock that day...
During the conversation that session, T confessed that he had gotten down onto the floor with Pink while they talked and she drew pictures. He is a very tall man and the room we use is not much wider than he is tall. It has several pieces of furniture in it, too. I still wonder where he put himself - I wonder where I put myself!
It doesn't feel like me. I wish it felt like me. Does anyone else have this happen?
.