As I answered a comment from
Grace
awhile back, it dawned on me that there is a similarity between what I've been experiencing lately and what people with low self esteem and survivors of neglect/abuse go thru. A person will often share too much personal information with someone the first time they are together.
My point is, I have trusted Mr.S with every thing about me and now I feel like old sneakers because my problems are coming back around to be rehashed for the 2nd time, or the nth time. Can it be that he will become bored out of his mind with my problems, now that he knows everything? I've shared nearly every aspect of my life with him. There are things he knows about me that I don't know (alters sharing).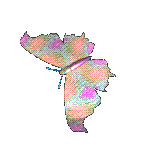 I can feel myself slipping into that place where I share nothing, say nothing, do nothing. I don't want to be in his office. I want to keep pretending I'm normal and I want to keep my way of life that is fake in all its glory, but still more fun than therapy. What's so bad about that? For me, I guess that is becoming normal: faking my way thru each day.
All these uneasy feelings have surfaced because I'm buying a house. Nearly lost the deal yesterday because of an appraisal glitch, but after my Realtor did more negotiating, I'm still going to closing. What's the problem? I'm wondering if all of me, all of my Colors, are aware we are moving. I'm afraid I'll wake up some morning and she won't know where she is and she will freak out. Won't be the first time. I'm scared. But like Mr.S says, "Well, you can choose to live in fear..."