I was just over at
Kerro's Korner
and she has posted an interesting issue that I've not read about yet (whether you are DID or not - watch out for this one)
Just before I went into therapy, I worked for a man who was so good to me. We both worked in a branch office of the company we worked for. He was V.P. of that certain department and had asked me to work for him when the company changed names and became part of a larger company. It was great. I had near carte blanche authority within my job description and he was a wonderful boss.
We hit it off and we had great conversations. I love a guy who can articulate and likes to be involved in conversation. He was always the gentleman, and always proper.
Then things changed, he wanted to talk more often about personal stuff - nothing sexual or even hinting at it. He often asked my advice about "women" and would often tell me that he's glad I helped him because he just didn't understand women and that he and his wife were getting along better.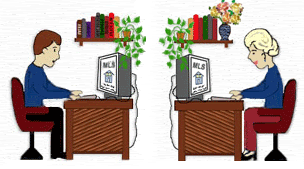 We went on trips, always work, always during the day, and always he behaved like a gentleman. And then he began calling me at home to share exciting news about himself or his family. It was like having a friend of the male kind, no big deal.
Then I had to quit my job and I ended up in therapy. The phone calls were still going on as were emails from my ex-boss. In therapy one day, I mentioned that I had talked to Ex-boss and Mr.S began asking questions about him, and how often he called and emailed. It just so happened that the previous Sunday, he had called at 8 am and after talking to me, he talked to my husband for nearly 30 minutes.
Mr.S was thotful and then he explained to me what emotional affairs were. They are when one or both parties pursues the other to provide the emotional part of an intimate relationship, tho he or she is married to or involved with another person I was not to blame and I really don't think Ex-boss had that in mind when it began but I NEVER called him, he was the one who always made that phone call or email. He was married, it is wrong. Mr.S advised me to end the friendship, which I did. Truth is I miss our conversations, but, shortly after I stopped working for Ex-Boss, he got a divorce, and about a year after that, my husband walked out on me. Want to hear the kicker?... ...
Shortly after my ex-husband moved out and filed for divorce, I found out that he had an affair with Ex-Boss's wife BEFORE he left me. Wow, what a putz I am. I never saw it coming.