I work in a large building with many different "units". Ninety-five percent of the many employees are women. I don't work well with women. I'm not the normal personality for it. I don't try to undermine someone else, I don't want to be the biggest name or have the most power. I just want to do my job.
I feel like I'm working at the circus.
This week has been hell.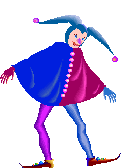 My coworker/trainer is the only person in the building who knows what she does. I have been hired for that reason. My instructions have been to "know everything she knows". She has a very obsessive compulsive (OCP) personality. Very. She doesn't do change well, to the point of pacing up and down our little hallway because I will not agree to stop taking case notes and leaving them in the file - MY FILE/MY CASE. It doesn't take much to set her off and I am bombarded by pressure and chatter and reasoning why she can't have that. She doesn't understand that I can do what I need to with those files. Or, maybe she does and can't deal with that. I don't know.
As for the rest of our unit, I feel I have to check my morals at the front door to "fit in". I am very divided on this. I am actually the only person in our group who has a Bachelors degree, and yet, I am low man on the grounds. No one else even has an Associates! Most of them have never stepped foot in a college/university and their most important decision for the weekend was where to get the beer. There's not a lot of jobs here and I don't really want to move. I am so torn.
As for my OCP coworker? I like her, despite the OCP problems and my DID problems. I am actually one-up on her because she doesn't know about my DID and I am aware of her problem.
Checking my morals at the door is a tough one. Even my supervisor is that way. She has a major flaw that should have kept her from becoming our supervisor: She cannot face someone when the reason for the meeting is to reprimand or problem solve. She is used to grabbing a beer and letting us "duke it out", but that was when she was part of our group and not supervisor. Now, to handle differences, she calls unit meetings and publicly embarrasses the target person into submission - even if the person has done nothing wrong.
That's what is going to happen to me next week. I went to her for her advice on an issue and she thinks I've made a mistake. She doesn't like ripples, let alone waves and she got mad at me. Now, we have to have a unit meeting so she can publicly beat me up over it. I never did get advise on how to handle it. I'm worried. I'm hoping an alter didn't do/say something I'm going to regret. I don't think so, but that doesn't mean anything.
I've not felt like blogging because I tend to curl up inside myself and hide. That's where I want to be right now. But I'm glad it's the weekend -- I get to go to Kooza (Cirque de Soleil) tomorrow with my daughter! Yea!